Our SIPs Construction & Consultancy Services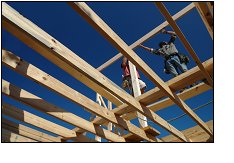 Once your build has been designed and drafted, and you have full manufacturer's drawings to hand, the SIPs construction phase can begin...
Initially, this involves sourcing and managing the right panel manufacturer. You may also need to hire a SIPs erector (a local builder or joiner perhaps) if you don't have the time or the expertise to tackle the construction phase yourself. Of course, once the build is under way, the project must be adequately managed and because SIPs construction is new to many, this can bring it's own unique set of challenges.
We offer a SIPs construction package that is designed to take a great deal of the hassle off the clients' shoulders. Because we have a close working relationship with many trusted panel manufacturers, we can provide a full, one-stop solution.
By acting directly with manufacturers, we ensure that they fully understand your design plans and that your panels and supporting structures are delivered in the order you need them. This sounds straightforward, but there are many nuances that if not kept on top of, will severely hinder the build process and time...
Many self-builders simply do not have the time nor inclination to get involved with this aspect of their project. With our SIPS construction service, clients are free to cherry-pick the parts of the build they want to take an active role in -- knowing that the project as a whole is in the best of hands.
Here below, are more details of the standards used in our SIPs construction and consultation package...
---
We Only Use / Specify The
Highest Quality SIP panels
The SIPs manufacturing companies with whom we work are of the highest calibre. As such the SIP panels are of a quality in accordance with BS Approvals and are also Insurance Approved. We will only use and recommend quality SIPs for any project with which we are connected.
We are aware of sub-standard similar products and we warn against these to any potential client. Sub-standard panels are those which do not conform to the basic requirements. In Britain, at this present time, the basic SIP panel is a press formed lamination of two exterior OSBs (oriented strand boards) and a pressure-injected foam of Polyurethane. According to the NHBC, a SIP panel should have a minimum expected lifespan of 60 years.
Click here to learn how to recognise sub-standard SIP panels


---
We Only Use / Specify The
Highest Quality Structure Framing
SIPs are a superior building product, but assembled alone they cannot achieve self-supporting status in most structures.
In the majority of uses for SIPs there is a necessity for added support by a framed structure or by inserted beams into the SIPs wall construction. This added structure is required to give support to the roof and/or out-of-alignment walls -- this being for the SIPs self-weight and for exterior loadings such as snow and wind etc.
We will only use and specify the best quality structure framing. This includes ridge beams and purlins etc. These supporting structures are crucial to the overall integrity of the build.
To complement the SIPs construction methods we also make full use of eco-joists, which are readily available from numerous manufacturers.
To learn more about these supporting structures click here


---
A completely Flexible Approach
Our SIPs construction package is completely flexible to meet the needs of the client. We will tailor our service to provide you with as much or as little hand-holding as you require throughout the project. If you have any questions, or would like to arrange an initial, no-obligation consultation (by phone or in person), please contact using the form below: