Benefits of Building with
Structural Insulated Panels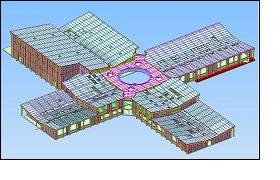 Many unfamiliar people confuse structural insulated panels (SIPs) with prefab or modular building construction. This leads to mistaken impressions that SIPs are a cheap construction with limited design styles, flexibility and life expectancy...
Prefabricated and modular buildings encounter a variety of problems on site with the erection process -- for example in getting the building straight, achieving and constraining a level and for being airtight. Much of this is due to the fact it is a mass produced product that tries to do everything. This in itself limits the scope for design and flexibility.
SIPs are completely flexible and tailored to suit your requirements. Complicated shapes and angles can be produced more economically often without the need for additional costly frames / support members.
Individual architects schemes can be modified to work with structural insulated panels, usually without effecting the look of the project (although some details may need to be modified to work with SIPs).
When a project is designed with SIPs components from its conception, the modular size and spanning capabilities of SIPs can be fully utilised. The flexibility of the 3D computer aided design process ensures exceptionally accurate panel engineering, which in turn enables precise on site construction.
Design flexibility and production capabilities inherent with the SIPs system make it attractive for both custom projects and to those interested in affordable housing.
Why is SIPs not commonly used by architects in the design process?
Many architects simply do not know about SIPs and its capabilities. Some share the misconception, along with the general public, that the use of SIPs is limited to simple shapes and that they are not flexible enough to be used with innovative or unusual designs.
Moreover, many architects want to see a product establish a track record before incorporating it into their design work.
Design advantages of using SIPs
Physical / structural advantages of using SIPs
Environmental advantages of using SIPs
Financial advantages of using SIPs



---
Design Advantages of
Structural Insulated Panels
Creative, individual and flexible building designs possible without the constraints of conventional and heavy building materials.
Living area to roof space, without the need for trusses can achieve 25% more floor area.
Thinner wall thickness along with improved insulation values can reduce energy costs by up to 60%.
Structural improvements with loadings being dispersed through monolithic construction.
Pre designed and engineered panels reduce installation time by 60%.
Build requires less skilled labour and no specialist tools.
The majority of construction can take place on a clean dry site -- quickly made weatherproof for other trades to commence their work packages much earlier in the build.
---
Physical / Structural Advantages of Structural Insulated Panels
Strength to weight ration is outstanding, with panels weighing on average only 25kg per square meter. This allows for ease of handling on site without the use of cranes etc, reduced foundation specification and cost can also be expected.
Strength of the SIPs construction system becomes apparent once the monolithic shell of the construction is complete, with each panel rigidly secured to adjoining panels and sharing stresses and loads. SIPs construction is up to 7 times stronger than timber frame construction.
Structural insulated panels interlock and secure to adjoining panels which creates a quiet / airtight construction, impervious to water, damp and mould.
OSB outer boards and polyurethane core provide no food value to vermin.
Polyurethane inner core to panels does not deteriorate or breakdown over time and has excellent insulation values that will last for the life of the building.
Construction and joint methods ensure minimal cold bridging creating a more even heat in the property with no condensation.
Energy costs are on the rise and with a SIPs construction you can expect reductions of up to 60% due to the insulation and heat loss qualities of SIPs construction.
Surface fixing of radiators, kitchen cupboards etc., without additional support to the structure is possible due to a continuous surface of OSB boarding.
Possible exterior finishes to SIPs buildings are numerous and include timber cladding, brick slips, traditional cavity and facing brickwork and many render systems.
Internal finish to SIPs buildings are usually finished with fire resistant plasterboard.
Roof finish can be as normal with battens and tiles, but with inherent strength of panels and water tightness the use of lightweight roof finishes are acceptable.
---
Environmental Advantages of Structural Insulated Panels
The environment is on the minds of everybody. The media is filled with environmental facts and stats and advice for saving the planet. Structural insulated panels are environmentally friendly -- by means of its components and the way in which it is manufactured.
OSB (oriented strand boards) make up the inner and outer faces of the panel. The timber used to produce OSB is from fast growing trees in managed forests accredited by the Forest Stewardship Council (FSC).OSB timber production uses 80% less energy to produce than concrete.
OSB is 15 times better than concrete as an insulator, and 400 times better than steel. A 25mm OSB board has better insulation values than a 114mm brick wall.
Polyurethane foam (PU) forms the inner core and insulation for the panels, which is CFC and HCFC free and has an ozone depletion of zero.
Structural insulated panels provide extremely high thermal performance with U values as low as 0.15W/msq K.
Construction with SIPs is draught free and has minimal cold bridging. This keeps properties warm in the summer and cool in the winter coupled together with energy costs reduced by up to 60%.
"Rethinking Construction" is a report written in 1998 by Sir John Egan based upon improving quality, efficiency and environmental considerations in the UK construction industry. SIPs meet many of the requirements in the report.
Structural insulated panels are produced using OSB board and polyurethane core, which can both be recycled.

Below are some environmental links that you may find useful (each link opens a new browser window):
---
Financial Advantages of
Structural Insulated Panels
Financial benefits to a SIPs construction at first glance do not appear to be great over conventional building methods. People expect the build to be half the cost of timber frame or traditional brick and block. All we can say is that technology does not come as cheap as some people think!
Foundations design is lighter than conventional brick and block due to the lighter panels. This saves financially on foundations.
Labour is a large costing on any project. SIPs constructed projects can usually be fully erected and water tight ready for windows and doors in 2-4 weeks giving on average a 60% time saving.
Installation of SIPs (if designed and engineered correctly) is not brain surgery and as such does not require a team of highly skilled nail knocker inners. 3D designs are virtually fool-proof to follow for installation and common sense takes care of the rest.
Waste is always a factor on a building site with skip after skip having to be dealt with. This can be reduced considerably with a SIPs construction as panels would delivered to site pre cut and engineered ready for installation (no waste).
Time costs money (as they say) so if you can reduce build time by 60%, surely the costs would reduce for project management, scaffolding, plant and equipment, security and temporary accommodation.
Weather is a factor we have to contend with in Britain. You cannot lay bricks in rain (but the bricklayers still need to be paid). SIPs construction being a non-wet trade is not affected by rain.
Heating costs are going up and up. Does it not make sense to build a property that can save up to 60% of heating bills for the lifetime of the building? Also a knock-on affect of SIPs means a much smaller heating system. One client of ours (a self builder) complained that his two halogen work lamps made the room too warm to work in!

Resale of your property is a factor we all look for either by area or local facilities. If you where selling your property and a neighbour was also selling, would the advantage not be with a property showing reduced running costs?




Click here to return from this structural insulated panels page
to the Sips Design home page